Welcome to Champaign-Urbana, Illinois! Moving to a new place is an exciting adventure, full of possibilities! We are eager to warmly welcome you and come alongside of you as you adjust to life in Champaign-Urbana. We offer many services and activities to promote friendship and provide opportunity for you to meet Americans and other internationals, practice your English, travel the U.S., share holiday meals, and explore the Bible in weekly small groups.  Students, visiting scholars, and spouses of all nationalities and religions may participate.  Families are always welcome.
Learn more about International Friendships
Please take advantage of these special activities and services for newly arriving students and scholars.
Temporary Housing with an American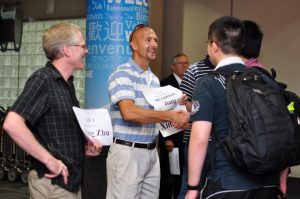 We are happy to help you get settled into life in Illinois. Our volunteers can provide temporary housing after you arrive in Champaign-Urbana.  Staying with a host will give you an opportunity to make a new friend, learn more about Champaign-Urbana from a local resident, enjoy a home cooked meal, and receive assistance during your first few days in a new place.
Contact Bill at for more information.
---
Welcome Activities
Welcome Picnic
At the beginning of every semester, we offer a welcome picnic for new students. This event includes conversation, outdoor games, and American picnic food. Come and meet other new International students, as well as some American hosts.  Contact Bill at for more details.
---
Weekend Homestay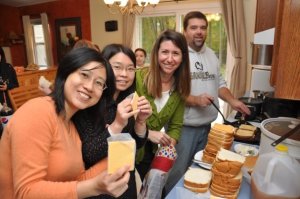 If you did not have the opportunity to stay with an IFI host prior to classes starting, here is your chance!  Spend a weekend away from campus in a home setting and develop new friendships. Homestay experiences vary.  Our hosts are ethnically diverse and live in a variety of neighborhoods.  Your host might be single or a married couple with children.  After registering, IFI will match you with a host. Your host will contact you a few days prior to your weekend homestay to make arrangements to pick you up on Friday evening and bring you back home on Sunday. Contact Bill for more information at .