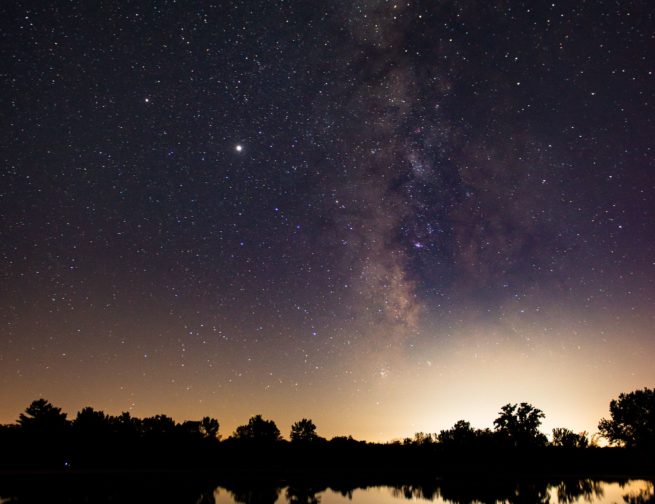 Date/Time
6 Aug 2022
4:30 pm - 11:30 pm
Location
Middle Fork River Preserve – Indian Ridge Group Campsite, 3485 County Road 2700 East, Penfield, IL
THIS EVENT IS NOW FULL AND CLOSED – NO FURTHER SIGN-UPS PLEASE
Enjoy this unique event before the start of the semester! IFI will travel to the Middle Fork River Preserve, about 30 miles north of Urbana, to enjoy hiking in a forest, prairie, and wetland park that is host to a wide variety of native Illinois wildlife. Perhaps you will see bald eagles, or even a beaver or some white-tailed deer! There is a huge eagle's nest along one of the trails!
We will have a picnic, complete with a bonfire for roasting turkey hotdogs on a stick. Other foods, including vegetarian options, will be provided. Following the picnic, as weather allows, we will go to the Preserve's Dark Sky Park to view the stars! This is Illinois' only officially certified Dark Sky Park. Interference from artificial light is minimal, allowing for much better viewing of the night sky.
Some IFI transportation will be provided. We hope that those who have cars can also help transport others. The cost is $3.00 for food, and $3.00 more if you need transportation (per person), paid in exact cash to the driver of the vehicle you travel in. Bring a blanket to lay on to view the stars. If it is cloudy, we will still have the event. IFI will provide the food, bottled water, and bug spray.  Depending upon the weather, a light jacket might become useful.
Check this park out! You might want to camp there in the future during your time in Illinois! If you are sure that you will attend, please sign up below! The deadline to sign up is August 4th. We may have to limit attendance based upon available transportation. Instructions for transportation will be emailed the evening of August 6th.
Hike, Picnic and View the Stars! - Middle Fork River Preserve
Enjoy Illinois' only certified Dark Sky Park!